---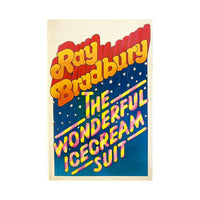 The Wonderful Icecream Suit (and other plays)
By Ray Bradbury.
Published by Hart-Davis, MacGibbon in 1972.
First Edition 
Binding: Hardback
Condition: VG. This is an ex-library copy with the usual stamps, but has been wrapped in a protective wrapper so is otherwise in lovely condition, with clean, crisp pages, tight binding and unclipped dust jacket.
A first edition of Ray Bradbury's The Wonderful Ice Cream Suit, three dazzling plays for today, tomorrow and beyond by the science fiction writer Ray Bradbury.
In the title play, six out-of-luck Mexicans buy an all-purpose ice cream suit that brings out the best in them. In The Veldt, two doting parents provide a fantasy playroom that makes their children's dreams come true. And in the third play, To the Chicago Abyss, an old man of the future remembers the little pleasures of yesterday.
Can't get enough of this jacket design.